Equipment
Washers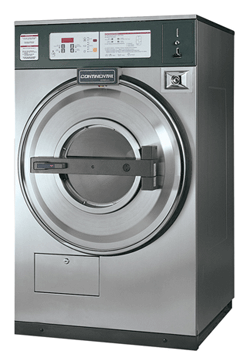 Hard-Mount Washer-Extractors
30- to 255-pound capacities
These durable, proven washer-extractors bring energy efficiency, ease-of-use and programmability to card and coin operated laundries. Designed to withstand the rigors of constant use, Continental hard-mount washer-extractors feature corrosion-resistant AISI-304 stainless steel inner and outer drums and front, side and top panels. The advanced drive system offers optimum wash performance and heightened energy efficiency. No energy is wasted during start-up or operation. Standard with a digital-coin drop, hard-mount washers are also available debit-card ready and offer easy-to-use programmable controls.
E-Series High-Performance Washer-Extractors
20-, 30- and 40-pound capacities
Designed to drive down gas, water and electrical costs while improving the user's experience, Continental E-Series Washers deliver high-speed extract, and easy to install soft-mount design, unmatched durability and superior programmability. The freestanding design enables these machines to reach extract speeds of up to 354 G-force—reducing the gas consumed to dry a load by 50 percent. And, unlike other commercial washers that must be bolted to concrete foundations, the freestanding design of E-Series Washers allows them to be easily installed and moved at any time. The highly programmable E-Series Coin Control offers four individually modifiable programs that allow storeowners to customize extract speed, mechanical action, wash temperature, water levels by cycle and wash or rinse time by minute.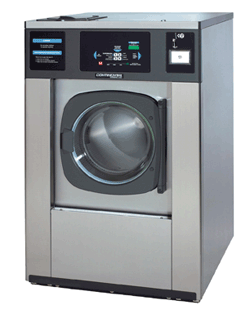 M-Series High-Performance Hard-Mount Washer-Extractors
25-, 40- and 55-pound capacities
Designed to deliver improved energy-efficiency and higher extract speeds than many hard-mount washers on the market, Continental's M-Series hard-mount commercial washers save coin laundry owners gas, water and electricity to increase profit potential. M-Series occupy less space than most other hard-mount washers, allowing more machines per square foot. The highly programmable M-Series Coin Control offers four individually modifiable programs that allow storeowners to customize extract
Dryers
ExpressDry Tumblers
30-, 55- and 75-pound capacity single pocket; 30- and 45-pound capacity stack
ExpressDry coin operated commercial dryers offer unrivaled speed and energy-efficiency to deliver greater profits. They curb gas consumption, eliminate downtime and are easy to use. These drying tumblers bring the ultimate in durability and performance to coin laundries. ExpressDry Tumblers are designed to maximize a coin laundry's bottom line with features offering flexibility, programmability, performance and energy efficiency. These tumblers feature advance microprocessors that give coin laundry owners superior control. The control allows for programmable time, temperature, cool-down, select time-of-day pricing specials, customer bonus cycles and more.
E-Series Drying Tumblers
20-pound capacity
Equipped with an oversized door, dryer window and cylinder light, E-Series Drying Tumblers are not only easy to use, they are incredibly efficient! The robust 7.0 cu. ft. cylinder and 1/3 HP motor are a perfect match in capacity and power to the 20- pound E-Series Washer. E-Series Dryers boast efficient axial airflow that maximizes water removal - saving customers time and saving laundry owners significantly on utility costs. E-Series Dryers share the same dimensions and utility connections as most home-style dryers, and as a result, are an easy replacement for these less efficient models.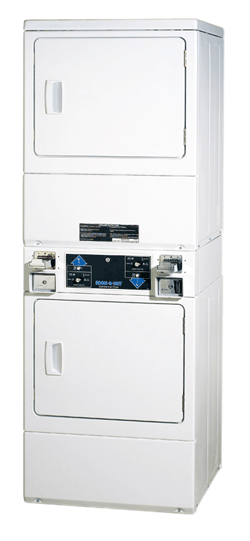 Econ-O-Dry Dryers
Singleload and stacked doubleload capacities
A perfect match to Econ-O-Wash topload washers, Econ-O-Dry dryers are not only easy to use, they dry laundry incredibly fast! The robust cylinder capacity takes on larger loads of laundry and provides improved tumble action through axial airflow technology. The dryer control offers fabric selection options. Singleload and stacked doubleload capacities are available in gas or electric heat - making them the right choice for any vended application.
Ancillary Items
At Laundry Services Company, we offer everything you need to outfit your laundry, providing a pleasing laundry experience for customers and enhanced bottom-line profits.
We work hard to improve your customers' laundry experience with ancillary items meant to make the necessary task of doing laundry a more pleasing experience. Simultaneously, we offer products that work to curb utility consumption and simplify store management and marketing.
At LSC, we provide any item you may need to fully outfit your store, including:
• signage
• laundry carts
• debit-card systems
• vending machines
• changing machine
• soap machines
• video machines
• energy-efficient water heaters
• and so much more!
Our team has the expertise to recommend solutions through ancillary items that combine to make your laundry unique, energy-efficient and comfortable. For more information on these products, please contact us at 866-724-1871.