Services
Layout & Design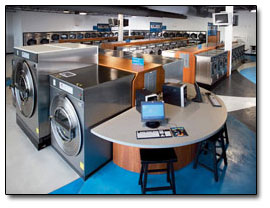 Order any one of our standard designs based upon typical dimensions found in the industry. Each plan includes:
• mechanical room
• ADA rest room (male/female)
• recommended plumbing diagrams
• drop-off laundry/attendant office
• typical mechanical specifications
Choose from a variety of floor plans based upon several dimension options. Standard plans are printed on 8 1⁄2 X 11" paper for ease of duplication. Custom plans or modifications made to our standard plans can be done for additional fees. Local codes may vary and actual architectural drawings will still be required. However, our drawings will save time and money on the part of the draftsman.
Competitive Analysis
Each Competitive Analysis includes a demographic report measuring critical data for population groups significant to the coin-laundry industry. Complete our input form by providing the desired demographic areas of interest (i.e. urban areas: 1⁄2 mile, 1 mile and 2 mile – rural areas: 1 mile, 3 mile and 5 mile) as well as competitor equipment models and vend price. With the input form completed, a comprehensive report will be generated detailing your store's potential against the market, given the competition's influence in the market place.
Breakeven Analysis
The purpose of this analysis is to evaluate the performance of a single coin-laundry location. By use of our detailed input form, we apply construction/remodeling costs to existing and/or proposed equipment in order to analyze a prospective selfservice- laundry business over a seven-year investment period. This report calculates utility costs based on local rates and applies those costs rather than make assumptions. Additionally, the Breakeven Analysis provides an internal rate of return (IRR) should the business sell at the end of the investment period. A floor plan should be utilized in conjunction with this report rather than a contrived configuration.
Business Plan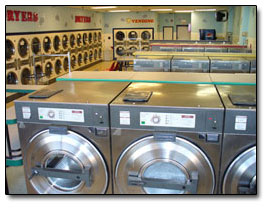 Includes:
• Breakeven Analysis
• Competitive Analysis
• business opportunities
• goals & objectives.
• Standard Floor Plan
• key management team members
• risk evaluation
Staff members will personally consult with you to establish a comprehensive understanding of critical tasks and marketspecific issues in order to draft and issue a detailed Business Plan specific to your situation. Our experienced consultant will guarantee no less than four hours personal phone time in preparation of a draft plan and final revisions.
View a sample business plan
View a sample proforma